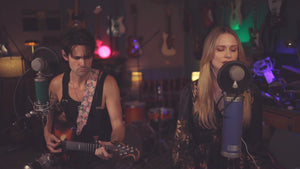 EVAN + ZANE is a band formed by Award Winning Actor/Singer Evan Rachel Wood (Westworld, Frozen 2, Across The Universe) and critically-acclaimed Guitarist/Singer-Songwriter Zane Carney (John Mayer, U2's Spider-Man on Broadway, Thundercat, CARNEY) 

Each themed performance leans heavily on Evan's charismatic, other-worldly vocals and Zane's film-score meets jazz-phenom brand of rock and roll. Audiences are promised a brand new setlist every show because EVAN + ZANE carefully craft a specific theme for each city. Previous themes include Fire/Rain, The Color Blue, Names, Disney, Psychedelia, Jazz, Jealousy, Places and much more. You've never seen a cabaret quite like this...

Follow @evanandzane, @zanecarney, and @evanrachelwood to connect with the band on Instagram.